Professional and caring registered funeral directors
The Lamb & Hayward funeral team are passionate about their chosen careers. Our funeral directors and embalmers are all actively supported in achieving and maintaining their respective national qualifications.
Collectively they represent many years of dedicated skills and experience. You can be assured that our funeral staff will bring their experience, knowledge and skills to support and assist your family through this most difficult of times.
At Lamb & Hayward we know that when someone close dies, it can be difficult to think clearly and make decisions. We are able to give clear, professional guidance and advice in all circumstances. We pride ourselves on our attention to detail, our quiet care and our friendly nature.
Registered and well-resourced funeral directors
Lamb & Hayward provides its funeral directors with excellent resources and facilities so that the families we serve have a personal and meaningful funeral experience.
In addition, the company is a member of the Funeral Directors Association of New Zealand, Selected Independent Funeral Homes and Funeral-Link, and is therefore bound by the Code of Ethics and Conduct of each of these organisations. We have a long involvement with the New Zealand Embalmers Association.
---
History
Quality, value and innovation have been the hallmarks of Lamb & Hayward Funeral Directors for 100 years.
The undertaking business had been first set up by Matthew Park. Boon & Company became involved when he commissioned them to build a specially designed funeral truck. However, Matthew Park's funeral business did not prosper as well as it should – Matthew was more interested in trucks than undertaking – and William Hayward and William Boon became financially involved in his company.
Introducing Lamb & Hayward Ltd, Funeral Directors
The Hon. William Hayward was a prominent Christchurch businessman and he and William Boon already had shared business interests in Rink Taxis Ltd (later to be absorbed into Blue Star taxis). Eventually Park sold out (and went on to start up another business, Parks Breakdown) and William Lamb, an experienced funeral director, joined what became Lamb & Hayward, Funeral Directors in 1923.
Established in 1923 by three Williams – Hon. William Hayward MLC, William Boon and William Sylvester Lamb – the company has continued to be locally owned and operated and a significant part of life in Canterbury.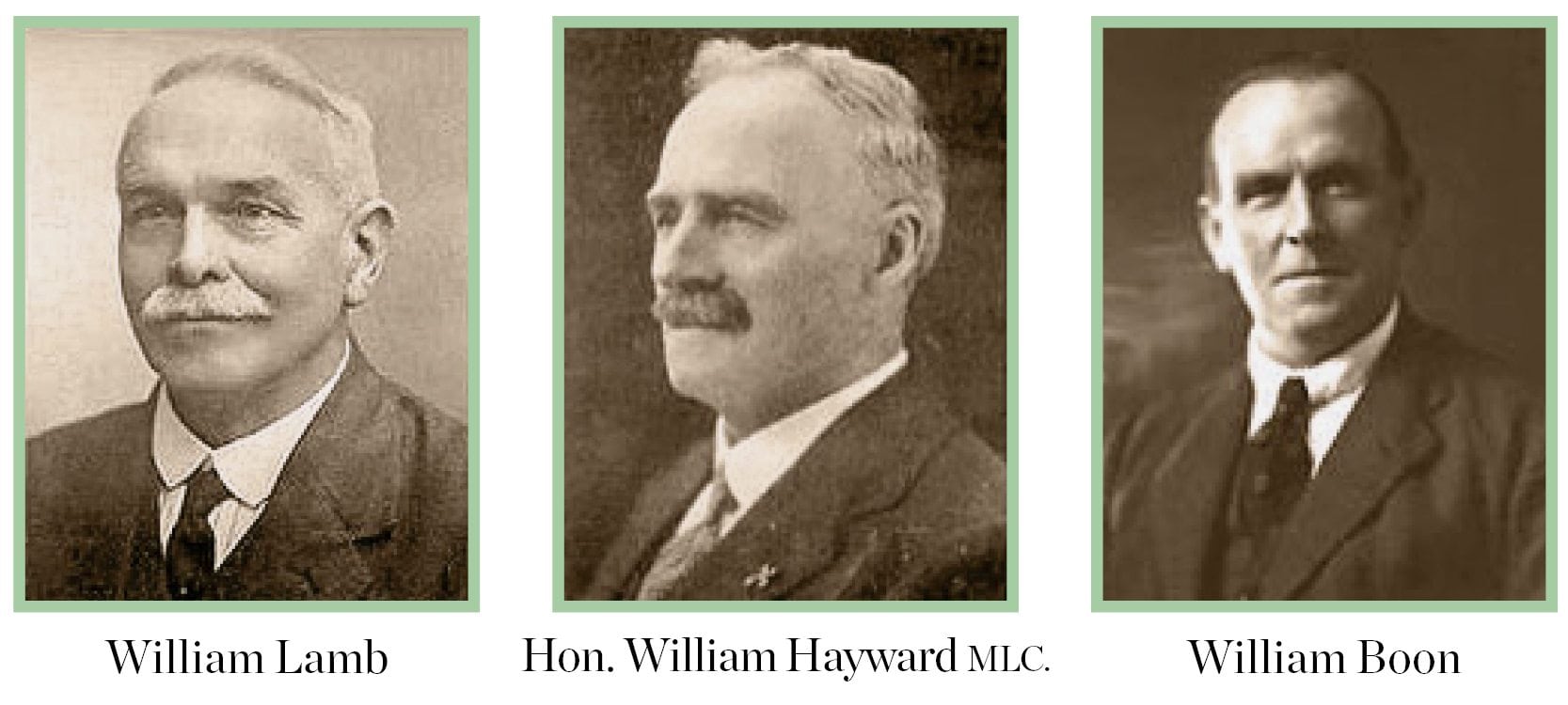 The original premises were at 292 Cashel Street and consisted of a small shop front, mortuary and a garage. There were also two self-contained flats for staff.

In 1936 the old premises were demolished to make way for a two-storey building on the same site. The new building provided for a chapel plus a floral area and the offices required to cater for what was at the time a modern funeral home.
By 1971 the business had expanded and larger premises were required. Lamb & Hayward relocated to a new site beside the old Bryndwr Lake in Wairakei Road. This new chapel was named Westpark.
Lamb & Hayward grows, adding premises
In April 1991 Lamb & Hayward dedicated its second funeral chapel at Kerrs Road in Linwood to offer a convenient alternative in eastern and southern Christchurch. The new funeral home was situated on the site of the old grain store.
Nine years later our Rangiora Chapel, Wai-mana was built to cater to the growing North Canterbury area. The complex also features an enclosed courtyard – the Garden of Memories – where a small plaque is placed for every funeral arranged by Lamb & Hayward in North Canterbury.
In April 2023, as part of our 100th anniversary, our brand new building, Oaklands was opened in Halswell. Oaklands offers a 200-seat chapel, with extra space for another 100-plus people, and the Centennial Lounge where family and friends can gather. The two-hectare site provides parking for 175 vehicles, and also features beautiful landscaping and planting.